Why does silver tarnish?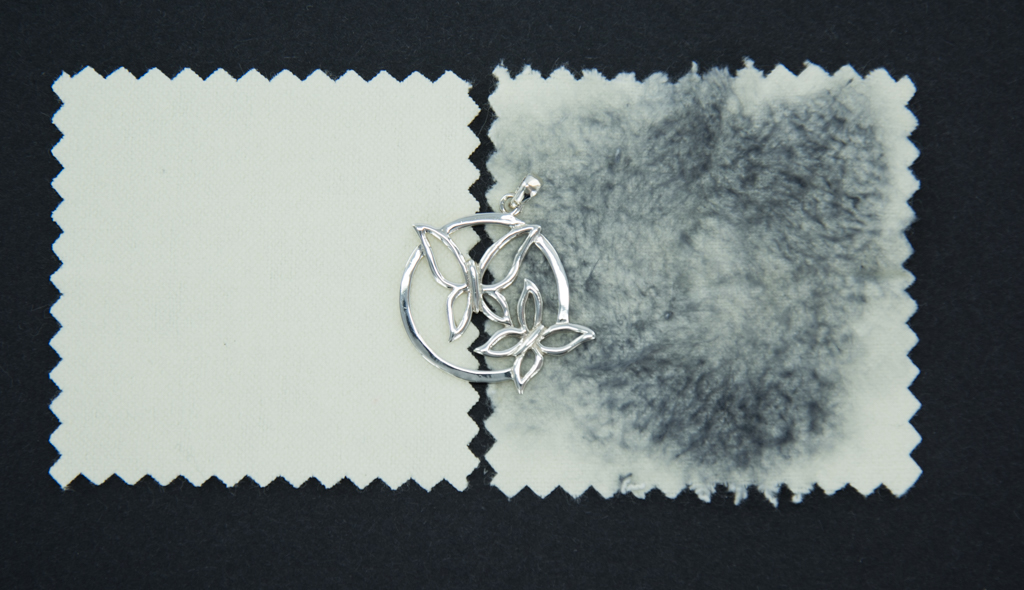 Why does silver tarnish?
Tarnish is a thin layer of corrosion that forms over the silver and this happens due to a chemical reaction. For instance silver needs hydrogen sulfide to tarnish although it does tarnish with oxygen over time. Tarnish often shows up as a dull gray or black coating over the silver. Tarnish is a surface phenomenon and only covers the top few layers of the silver also the layer of tarnish protects the layers underneath from reacting.
Make-up on the skin is the most common cause of silver jewellery tarnishing. Most make-ups often contain chemical compounds which are harder than the jewellery itself. Metallic abrasion occurs when these hard compounds come into contact with the jewellery metal. To prevent this happening look for make-up which does not contain zinc oxide, titanium dioxide, ferric oxide, and calamine. If you can't find make-up without these ingredients it's recommend that you remove rings and other metal jewellery while applying make-up. Also to clean with soap and water the skin areas which will be in contact with your jewellery.
The most common things that you wouldn't necessarily think could tarnish silver jewellery are wool, rubber bands, fuels derived from fossils, a few types of paints and rubber latex gloves also certain foods like eggs and onions can also tarnish silver due to the Hydrogen Sulfide.
What can you do to prevent silver tarnishing?
When storing your silver jewellery try to keep it air tight. This will help slow down the tarnishing process. Take your silver jewellery off before you shower and when spraying perfume and hairspray try not to spray your jewellery.
It's best to try and clean your silver jewellery at the first sign of it tarnishing, this is when it starts to go a mild yellowish colour. At this point it's easily cleaned by wiping the jewellery with a silver polishing cloth.
In even more severe cases of silver jewellery tarnishing, this is when it's a heavy black colour you may need to use a chemical dip which provide a quick and easy way to dissolve the tarnish. Silver polishing clothes may not be effective at this stage to remove the tarnish. When using the chemical dip to remove silver tarnish ensure that the room is well ventilated and that the liquid is far away from your eyes. Ideally chemical dips should be used only by professional restorers because using too much of the liquid can destroy your silver jewellery.
Use a silver polishing cloth regularly to remove the tarish before it becomes thick and does damage to the piece of jewellery. Over time the silver polishing cloth turns black from the tarnish it collects from the silver.
So, can you wash a silver polishing cloth?
Unfortunately not as this would wash the silver cleaning agent off the cloth and stop it working. Once the cloth is completely black it must be replaced with a new silver polishing cloth.
Minimal Price: £ 4.99 4.99